Furnace Installation in Brentwood, CA
When you call Black Diamond Heating & Air Conditioning, you get expertise on the full range of central heating options in Brentwood for your home – not just some of them. From gas or gas powered central heating, to central comfort systems that combine air conditioning for summer, and heat pump installations – Black Diamond Heating & Air Conditioning can help you choose the perfect HVAC system in Brentwood for your family and your budget. It is important to have your home's heating needs assessed by the professionals from Black Diamond Heating & Air Conditioning. That advice can help ensure that your new system provides you with a comfortable even temperature, as well as better control of how your home is heated. Quality planning and installation is critical to a system that will last year after year – an underrated system would always be working at full capacity, while an overrated system would have to cycle on and off – causing reliability issues and poor heating. That's why Black Diamond Heating & Air Conditioning's input is so important in helping you choose the right system.
Heating Replacement
If you've had to repair your heating system multiple times or if it's been under consistent use for many years, it might be time to replace it. Black Diamond Heating & Air Conditioning can replace your old heating system with an environmentally friendly, energy-efficient unit. Our heating systems will help you save on your monthly energy bills and keep your home comfortable.
Get the Right Size Furnace to Save the Most Money
In most homes, the heating and cooling system installed is too big. Besides wasting energy, improper size can create uneven temperatures, poor humidity control and costly maintenance problems over time. Improper furnace installation in Brentwood can reduce system efficiency by up to 30%. But properly sized ENERGY STAR ® qualified equipment can easily cut your annual energy bill by hundreds of dollars. Programmable thermostats, like the YORK® Affinity™ Residential Communicating Control, can save you even more with improved energy savings, home comfort and peace of mind that your equipment is operating at peak efficiency. Ask Black Diamond Heating & Air Conditioning about high-efficiency residential products with the ENERGY STAR® label.

YORK® Gas Furnaces – Comfort on Every Level
Start looking forward to winter with an efficient, YORK® gas furnace. Featuring AFUE efficiency levels as high as 98%, you'll save money while enjoying a new level of comfort. Robust, time-tested construction ensures your YORK® furnace will provide quiet, consistent heating for years to come.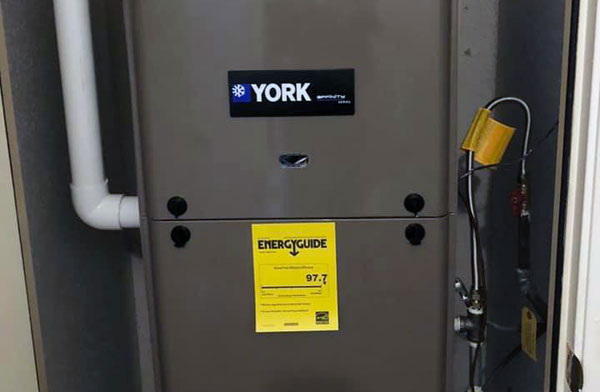 Get a Free Estimate for Furnace Installation in Brentwood, CA